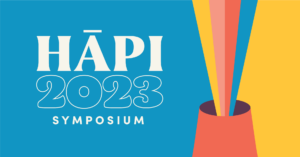 With so much international industry royalty in town, we couldn't ignore the opportunity to squeeze all that knowledge and experience out of them – and not just on the brew floor. Ergo, after a four year hiatus, we were stoked to announce the return of the Hāpi Symposium!
Helmed by Hāpi Hop Research (a collaboration between MPI, Freestyle Farms and ourselves here at GP), the Symposium once again wrangled the world's best breweries, industry leaders and hop scientists under one iconic Wellington roof (Te Papa, the roof was that of Te Papa's). The result was an inspiring day of curated talks, covering the latest groundbreaking research in hops, brewing techniques and experiences from around the globe.
The Symposium sets out to elevate the brewing industry here in Aotearoa to measure up against the best of them. We already know we have huge talent here in this little nation – the quality of New Zealand hops, malt, yeast and beer will attest to that, but the Hāpi Symposium was something else. It was unreal to have such an open dialogue with some of the best minds in the industry and stand amongst the cutting edge of brewing innovation. It's fizzy stuff and we're giddy that we play a part. To those who managed to attend – kia ora! It was an unforgettable day and a truly special moment for the brewing industry here in Aotearoa New Zealand.
To those who were unable to attend this year's Symposium, you can can watch each speaker take to the stage below!
Scott Janish | Sapwood Cellars – 'Maximising Hop Aroma and Flavour'

Laura Burns | Omega Yeast| Thiolized Yeast – 'Unlocking Thiols in Beer Fermentations.'


James McNamee (Garston Hops), Richard Wong (Nelson Lakes Hops) – 'Fresh Faces: An Introduction to New Hop Growing Terroir.'


Panel Discussion | Sam Richardson (Other Half Brewing), Evan Price (Green Cheek Brewing), Steve Luke (Cloud Burst Brewing) – 'Tropics to Forests: Exploring Aroma Diversity within Hops'


Alex Nowell | CLS Farms – 'A Look at American Hop Terroir'


Peter Bircham | Garage Project – 'Hops, Flavour & Microbes'


Jeremy Moynier | Stone Brewing – 'Hop Quality Group & Selecting Hop Lots for Current Brands'

Panel Discussion:  Scott Hargrave (Balter Brewing Company), Bob Kunz (Highland Park Brewery), Pete Gillespie (Garage Project) – 'Hop Selection – Tips & Tricks'